Move FTM on a MacBook:- Do you want to learn how to move your tree from FTM 2014 or Windows to FTM 2017 for Mac? If so then you gotta be glad as you have finally found the perfect blog you could. And here you will surely be provided only suitable solutions and instructions.
Well, you should know that you can easily open the family tree files that were created in FTM 2014 for Windows in FTM 2017 for Mac directly. Here you will learn that the only safest way to Move FTM on a MacBook is when you first create a backup on your Windows and then you have it all restored on your Mac. Doing so should ensure that all your media has been automatically transferred as well as relinked, and also see to it that syncing with your online tree only if you have one resume without any problem.
Move FTM on a MacBook
You now need to go through the mentioned steps as instructed to easily migrate your family tree safely;                                                                                                    
Backup your file
Restore your file
Back up your file in FTM 2014:
First of all, on your PC, you got to open the tree that you would like to move and then choose the 'Backup' option from the 'File' menu.
Next, you would need to choose a location for saving the backup file. And to do so you must click on the 'Removable media' button if you want to save the file to a USB flash drive or any other removable media.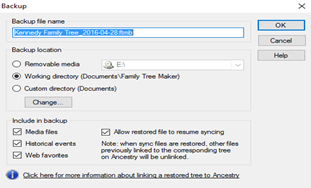 And then in the 'Include in backup' section, you will need to select the items that you want to have in the backup. You must make sure that the 'Media files' check box has been select if you would like to include your photos and other media.
Furthermore, if it happens that your current family tree is link already to an online tree on Ancestrty.com then you will need to first select the 'Allow restored file to resume syncing' checkbox and make sure that it is select. Hence this will allow the backup tree to automatically be relink to the online tree when it is restore on your Mac. And then you will just need to click on the OK button.
When the above is done that a backup file with the '.ftmb' extension will be saved to the specified location that you select. And now you can move the file to your Mac computer (for example; a USB flash drive) and then you can place it in the appropriate folder in the 'Finder' section.
Restore your file from a backup in Family Tree Maker 2019:
You need to start on your Mac computer, by opening Family Tree Maker 2019 and then you must choose the 'Restore' option from the 'File' menu.
After doing so, you will need to go to the location of the backup file that you created in FTM 2014, select it and then just give click on the 'Open' button.
And now if your backup file contains a tree that has been link to one on Ancestry.com then you will see the 'Restore – Additional Options' dialog open. You just got to select the 'Restore sync files' checkbox and then click on the 'Restore' button.
At last, when your family tree has been restore then you should click on the sync icon that is in the top right corner of the screen. And then you must choose the 'Sync Now option from the popup menu to make sure that your restore tree has been correctly sync with the Ancestry tree.
You should be over with the steps by now and all good to manage to transfer files easily to your FTM 2017 Mac. However, if you happen to face any problem or you have other related queries then you need not hesitate instead you can feel free to contact family tree maker support at +1-888-257-3335. And the team of efficient technicians will be available at all times to guide you through the needful. You could also choose to connect with the experts at any time via live chat support.